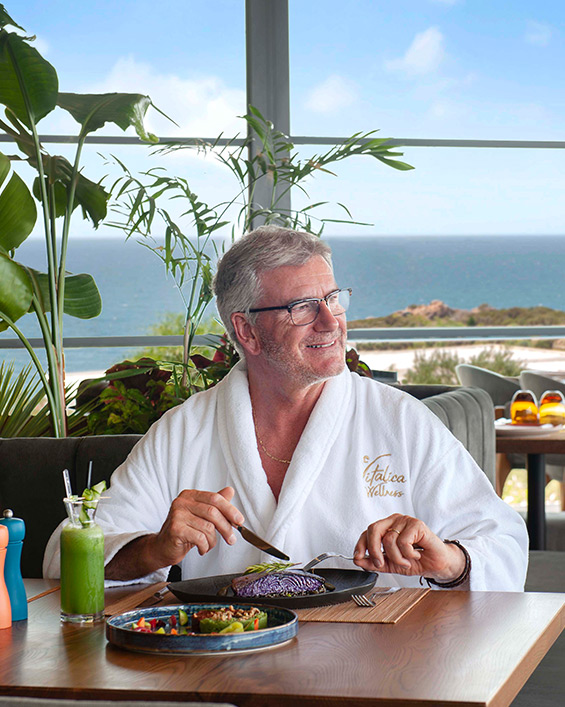 Intensive cleanse designed to give you a total body reset. This program is created by our traditional team of doctors to provide you a powerful cleansing process by eliminating bodies inflammation and toxic build-up which has been build over years. This program resets the complete metabolic system and heals your skin, lymph, lungs, liver and gut's. The program blends the cleansing and rejuvenating process for 5 major organs which are skin, lymph, lungs, liver and intestine's health with the superfood cellular cleansing nutrition herbal supplements and wellness treatments.
Intensive Detox Program Content (1 - 21 days)
Physician consultation at the beginning, end and duration of the program
Full body analysis
Vitalica Wellness intensive detox nutritional supplements
Intense detox foods (breakfast, lunch and dinner)
Intense detox drinks (prepared according to personal prescription)
Unlimited herbal detox soup
Unlimited herbal tea
Unlimited pH 10 water
Follow-up throughout the program
Nutrition consultation by a specialist
Personalized health plan before departure
Indoor swimming pool
Free participation in group activities (such as yoga, breathing, meditation classes, fitness, wellness talks, holistic activities, walks with an expert, healthy cooking lessons)
Vitalica bag and water canteen

* * Applications included in the program

Infrared sauna (30 minutes every day)
Salt Room (30 minutes every day)
Steam Room (30 minutes every day)
Manipura abdominal massage (20 minutes, before Angel of Water)
Angel of water (large intestine cleaning) Our doctor decides how many sessions you will receive this application after consultation.
Fill in the Form
We will call immediately