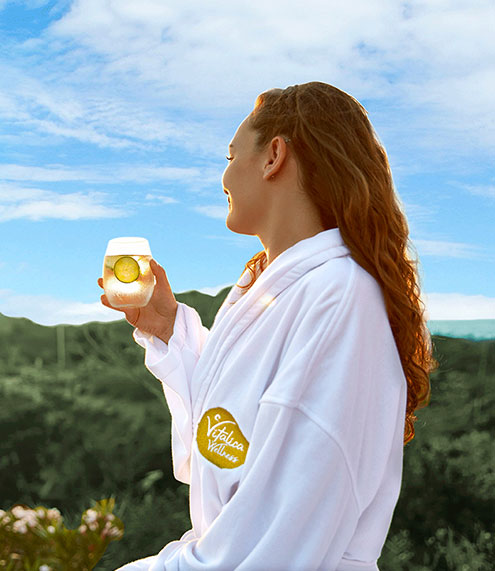 This program is designed for you to relax by getting away from the fatigue and stress of daily life, to meet wellness practices that improve your physical, mental and mental health and to increase your energy. Spoil yourself with the one-day "Come Alive" program!
Come Alive Program Content
Breakfast, lunch and dinner

In Vitalica Wellness, you will meet special organic foods that are activated and improve health. Our kitchen offers easily digestible portions that allow you to get the macro and micronutrients your body needs in the right amount and at the right time to protect, improve, and improve your health. Thanks to this new kitchen you have experienced; You will get rid of your complaints such as insomnia, fatigue, and memory impairment and increase your energy and vitality. Your new eating habits will also make it easier to lose your excess weight. Adopt the Vitalica Wellness philosophy: " Let your food be your medicine and your medicine be your food!"

Enjoy your superfood wellness smoothie with strawberry, raw cocoa, plant-based milk and protein powder.

Unlimited herbal tea and alkaline water

Discover the healing mystery of locally produced herbal teas from abroad. Our herbal teas are made from medicinal herbs that have the best aroma and healing properties. The alkaline and ionized water you will drink throughout the day protects your body's acid balance, protecting you from digestive system problems, blood pressure, diabetes and chronic diseases.

Relax with our rejuvenating special massages and support your spine and muscles. Enjoy this peaceful getaway that soothes your tension.

Experience the difference of the ozone sauna, which increases collagen production, purifies the body, stimulates skin enzymes and saturates the cells with oxygen.

Group yoga, meditation or breathing therapy

Participate in yoga, meditation or breath therapy group classes, and experience unforgettable experiences on the way that improves your physical, mental and spiritual health.

Meet the infrared sauna, which is 17 times more effective than the classical sauna, to increase blood circulation and purify toxins.

At Vitalica Wellnes, in the heart of the city but away from the chaos, relax your body and muscles in the hot water of the indoor pool.

Enjoy four different group fitness classes from the aqua gym to zumba, hammock yoga to pilates. Meet innovative and leading fitness systems that provide high efficiency in a short time.
Fill in the Form
We will call immediately